The Site header is divided into 3 rows and depending on the currently selected header layout, You may have the options to customize the following 3 rows:-
Site Header – Main
Site Header – Top
Site Header – Bottom
All these three appear as sections in the styling panel. Since they all share common properties, we will only cover one here.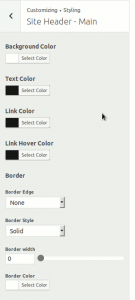 As seen in the screenshot, you can change the following properties:-
Background Color for the Header Row( you may even use transparent color)
Text color
Link/Hover Color
Border for the header row.