The main menu section allows controlling the appearance of the top main menu/sub menu.
Background Color:-
Here you can change the background color of the menu.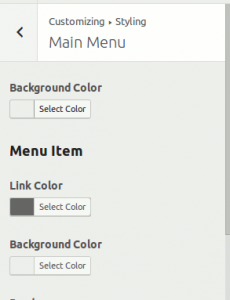 Menu Item styling:-

In this group of controls, you can styling the main menu items. You can control
Link color
Link hover color
Link border
Link hover border
Link background
Link hover background
Selected item:-
Here you can update the style for the currently selected menu item.
Sub menu Link Styling:-
It allows you to style the menu dropdown.

It has same set of controls like the main menu item.
Link color
Link hover color
Link border
Link hover border
Link background
Link hover background