This panel is only available if you have BuddyPress enabled and you have  the  "User Galleries" component enabled in your General Settings section of MediaPress.
This panel allows you to control various aspects of BuddyPress User Galleries.
Table of Contents:-
Media Type Settings:-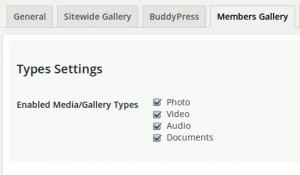 In this section, MediaPress will list all the enabled media types(That you have enabled in the General panel). You can make these media type available/unavailable by checking/unchecking them.
Type Filters Settings:-
Type filters were added in 1.0.1. It allows users to filter their gallery by the allowed gallery types. Here is what type filters look like.

Default View Settings:-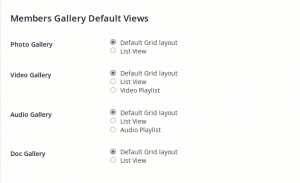 This section will list the views available for each of the enabled media type. You can select the default view which sits your need.