Custom meta fields allow you to have extra attribute for your content. These are stored in WordPress post meta table. For more details about the post meta, please see the WordPress documentation.
With BuddyBlog Pro, you can  do the following:-
Create any number of custom post meta fields. The data entered by your user in the form will be saved with post. BuddyBlog Pro.
Order the custom meta fields in the form display
Control the display of post meta fields with the post content on the post listing(archive) or single post pages.
Supported Custom field types:-
Text: Single line text field
Text Area: Multi line text field
Rich Text Editor:- Visual editor(with tinymce editor)
*Medium Editor:- Visual Editor with Medium editor(will be available on 15th June)
Number:- Numeric data field
Web URL
Dropdown – single select field
Multi Dropdown:- Multi select field
Radio Buttons
Checkboxes
Oembed:- Video embeds
Image:- image field
File:- arbitrary file type( You will need to make sure the mime type is enabled in WordPress)
Hidden:- Allows you to store some fixed data with each post without user
Here is a screenshot for showing post meta section options:-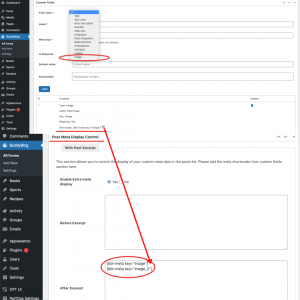 You can also have control for display custom meta field information on a single post page. Just enable the "Enable Extra meta display" option under the "With Single Post" section. If you enable this you can display custom field meta information before post or after post entry.
Here is a screenshot for showing single post meta section options:-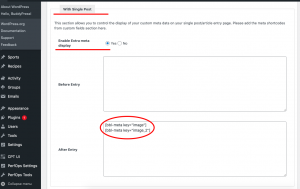 Here is a complete demo video for meta fields with BuddyBlog Pro