There is a guideline to set up the User profile tabs Post Lists setting with BuddyBlog Pro. The post lists section allows you to configure the post display tab.
Here is a screenshot showing Post Lists panel options:-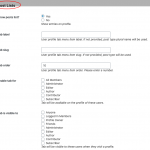 Show posts list:- This option allows you to show posts on the profile tab. If you want to show enable this option.
Tab Label:-Allows you to add a user profile tab menu label. If you do not provide by default pick post type plural name.
Tab Slug:- You can add your tab slug.
Tab Order:- Allows you to add tab order please fill only numbers.
Enable Tab For:-Tab will be available on the profile of these users.
The tab is visible to:-This option allows the admin to restrict tab visibility for unauthorized users.