If you are using BuddyPress or BuddyBoss, The Profile Tabs settings allows you to use a post type as a user profile tab.  It also allows you to configure which user roles can create, edit, delete the content and other related features.
BuddyBlog Pro lets you create multiple user profile tabs based on WordPress post types. You will need to first enable a post type for use.
Enabling Tab for a post type:-
Please visit Dashboard->BuddyBlog->Settings-> General Settings page
It will list all the post types available on your site. Here is mine.

It lists all the public as well as private post types. Once you enable one or more post types and save, A new settings tab page will become available for each of the enabled post type.
To Configure a post type tab on the user profile, Please click on the Post type tab. You will see a screen showing options similar to the following screenshot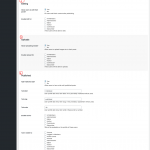 The Post Type Tab Screen is divided into following sections:-
Tab Settings :- General settings
Post List : Post list page settings
Published
Pending
Drafts
Activity Integration
Most of the section allows you to configure and fine tune the availability and visibility of corresponding tabs on user profile. You can use the above links to configure the post type tabs.
If you need a video example, here is a demo showing how to configure specific post type in user profile tabs with BuddyBlog Pro