There is a guideline to set up the User profile tabs Misc settings and having additional functionality.
Here is a screenshot showing Misc Settings panel options:-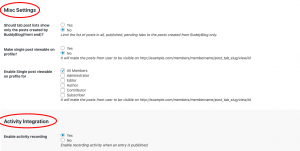 Should tab post lists show only the posts created by BuddyBlog(front end)? Limit the list of posts in all, published, pending tabs to the posts created from BuddyBlog only.
Make a single post viewable on profile? This option makes the post from the user to be visible on  http://example.com/members/membername/post_tab_slug/view/id
Enable single post viewable on profile for:- This option allows a single post view for which users based on their roles.
Activity Integration
Enable activity recording:- If you want to record entries in the activity then enable this option.