The general settings panel allows you to control the enabled reportable types as well as the form.
The first setting panel, that you will be using most of the time is the general settings as shown below.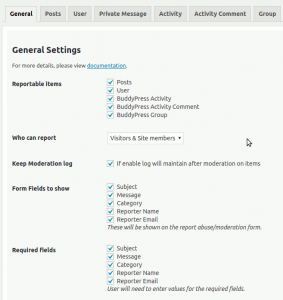 The first thing that you will note on this panel, is list of the enabled reportable types as shown below:-
Reportable Types:-
It allows you to enable the content type which can be reported by the user. Currently supported reportable content types are:-
User
BuddyPress Activity
BuddyPress Activity Comment
BuddyPress Groups
Support for posts/comments are coming next.
Here is a screenshot showing this section.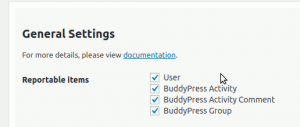 By unchecking the option, you can disable/enable what can be reported by the user. Once a content type is enabled, a relevant setting panel will be added to the current page.
Reporter Permission:-
You can customize who can report. Currently supported options are:-
Visitors & Site members:- Everyone can report.
Site members only:-  Only logged in BuddyPress users can report content.

Moderation Log:-

It helps you to keep record of all the actions related to moderation. It acts as sort of the moderation history. If you keep it enabled, you can see the moderation history from the History menu for each of the item.
Reporting Form Customization:-
We have two options that allow you to modify the appearance and behaviour of the reporting form.
Form Fields to Show:-

Here you can select which fields will appear on the form. If you do not select any field, only report button will be shown.
Required Fields:-

Here you can force users to fill certain fields if you like. If you do not mark any field as required, all the form fields will be optional.
Note:- If you mark category as required, be sure to create and keep some categories as active. If you don't do that, user's will get the message "category is required".
Next:- User Reporting Settings