With BuddyPress Moderation tools, you can whitelist one or more roles. Contents(activity, comment, posts etc) from users belonging to these roles won't be reportable.
You can configure whitelisted users from Dashboard->Moderation->Settings->General tab as shown below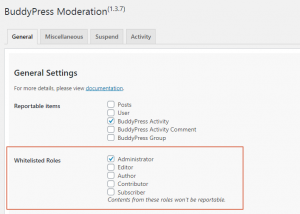 Important note:-
Super admins are always whitelisted
For performance reasons, we do not hide report buttons on the contents from these roles. If someone tries to submit a report, they will see "Can not be reported" error message.
Demo for Whitelisting users from moderation for BuddyPress Moderation Tools