With BuddyPress Member Types pro, you can map a member type to PaidMembershipsPro Membership Levels.
We assume that you have both the BuddyPress Member Types pro and PaidMembershipsPro Installed and you have some of the Membership levels setup.
Step 1:- Map a BuddyPress Member Type to Paid Memberships Pro Level.
On Add/Edit Member type screen, you will see a metabox with the radiobox to select the association. Here you can select a membership level which will be assigned to the user when their member type is changed to the member type we are editing.
Here is a screenshot(I am editing a member type named "Company")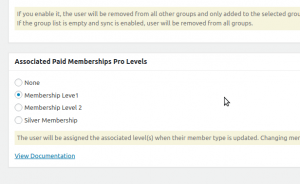 The metabox lists all the membership level from Paid memberships Pro plugin.
Once we have done it, when ever a user's member type changes in future to this member type, They will be assigned "Membership Level1 ".
Here is a screenshot showing when I assigned the "Company" Member type to user, Their membership level changed to "membership Level1"