Note: If you are mapping member type to roles or roles to member type, this integration is not suggested. In order to work with  Ultimate Memberships Pro triggers, we suggest not mapping member types to role(from members type add/edit screen) and not mapping role change to member types(from settings->Member Types screen.). If you need roles to change, Please use the role assigning provided by Ultimate Memberships Pro.
BuddyPress Member Types Pro support integration with Ultimate Memberships Pro plugin.
If you are using the Ultimate Memberships Pro plugin, You can control changing of a user's member type when his membership level changes or subscription gets activated/deactivated.
When BuddyPress Member Types pro and  Ultimate Memberships Pro are active, you will see the options for member type on add/edit level screen as shown below.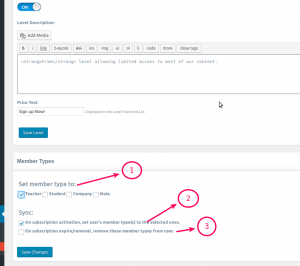 As shown above, you can enable changing of member type based on the membership level.
Explanations:-
 Decide which member types you want to assign when a user subscription is activated for this level. If you do not select any member type, the user's member type won't change.
If you enable this, user's member type will be set to the specified member types only. Their old member types will be removed. If you do not check it, their old member types won't be removed but the new ones will be added.
If you enable it, when a user's subscription is deactivated/removed, the members types associated with the removed level will be removed too. If you do not check it, removing subscription won't affect user's member type.